Sole Australian Distributor for Old Cars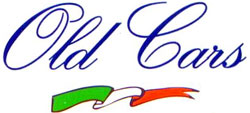 Old Cars is a long established family owned firm located in Quarona in the heart of Italy's automotive manufacturing area, between Turin and Milan. As such, they have a firm reputation as the builders of fine quality diecast promotional models for such Italian giants as Fiat and Iveco. Their range includes many of these well detailed and accurate models, all made from original factory drawings and specifications.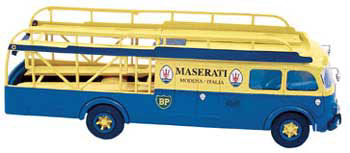 The promotional range is supplemented by many other interesting models, such as race car transporters and support vehicles, buses, fire engines, earthmoving and industrial equipment and so on. Scales range from 1:87 to 1:32 depending on the subject matter, but are predominantly the accepted collector's scales of 1:43 and 1:50.
The range consists of around 60 models, these are listed below by type and marque.
Formula 1 Race Transporters
Coaches and Buses
Earthmoving and Construction Equipment
Trucks, Trailers and Commercial Vehicles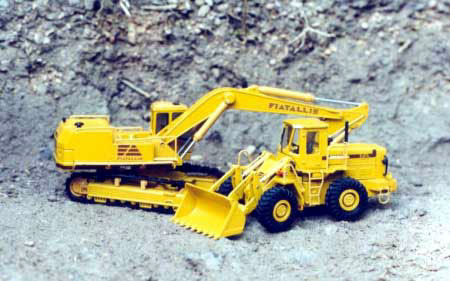 | | | | | |
| --- | --- | --- | --- | --- |
| OLD 59000 | Fiat | 170 | Ferrari F1 Transporter 1976 | 43 |
| OLD 56000 | Fiat | 642RN2 | Ferrari Transporter 1959 | 43 |
| OLD 2000 | Iveco | Eurostar | Ferrari F1 Transporter 2000 | 43 |
| OLD 2002 | Iveco | Eurostar | Ferrari F1 Transporter 2002 | 43 |
| OLD 77000 | Iveco | Turbostar | Ferrari F1 transporter 1980 | 43 |
| OLD 57000 | OM | 150 Rolfo | Ferrari F1 transporter 1970 | 43 |
| OLD 58000 | OM | 150 Rolfo (with sponsors) | Ferrari F1 Transporter 1970 | 43 |

| | | | | |
| --- | --- | --- | --- | --- |
| OLD 07400 | Iveco | Cityclass | | 43 |
| OLD 07401 | Iveco | Cityclass | Orange | 43 |
| OLD 07800 | Iveco | Dallavia | Tintoretto | 43 |
| OLD 07500 | Iveco | Euroclass HD Orlandi | | 43 |
| OLD 07421 | Iveco | Irisbus a metano | Roma | 43 |
| OLD 07422 | Iveco | Irisbus a metano | Torino | 43 |
| OLD 07420 | Iveco | Irisbus a metano | Urbano | 43 |
| OLD 07516 | Iveco | Irisbus HD | Interurban bus | 43 |
| OLD 07517 | Iveco | Irisbus HD | Interurban bus Rocco | 43 |
| OLD 07515 | Iveco | Irisbus HD | Orlandi | 43 |
| OLD 07423 | Iveco | Irisbus Metano | Napoli | 43 |
| OLD 07000 | Iveco | Turbocity | | 43 |
| OLD 07700 | Volvo | Genesis | | 43 |

Earthmoving and Construction Equipment
| | | | | |
| --- | --- | --- | --- | --- |
| OLD 61050 | Fiat Allis | FE45 | con martello pneumatico | 50 |
| OLD 61000 | Fiat Allis | FE45 | Excavator | 50 |
| OLD 60600 | Fiat Allis | FL20 | | 50 |
| OLD 60100 | Fiat Allis | FL20 | | 43 |
| OLD 60800 | Fiat Allis | FR20B | 4 wheeled loader | 50 |
| OLD 62400 | Komatsu | Skid Steer | Loader | 35 |
| OLD 62500 | Komatsu | Skid Steer | Loader | 35 |
| OLD 25801 | Komatsu | Thesi | | 25 |
| OLD 62600 | Komatsu | Utility | Pala cingolata | 35 |
| OLD 62700 | Komatsu | Utility | Pala gommata | 35 |
| OLD 63000 | Komatsu | Utility | PC18 MR | 32 |
| OLD 62900 | Komatsu | Utility | Terna WB97R | 50 |
| OLD 01850 | Betoniara | Betonrossi | Cement Truck | 43 |
| OLD 01610 | Iveco | Eurotech MP | con Pianale Cometto | 43 |
| OLD 01851 | Pompa | Autocarrata | Betonrossi Cement Pumper | 43 |
| OLD 01852 | Pompa | Autocarrata | Standard Cement Pumper | 43 |
| | | | | |
| --- | --- | --- | --- | --- |
| OLD 25701 | Komatsu | Transpallet | Pallet transporter | 20 |
| OLD 25800 | OM | Pimespo | Thesi | 25 |
| OLD 25700 | OM | Pimespo TL | Pallet transporter | 20 |
| OLD 25600 | OM | Pimespo XD30 | Fork Lift | 25 |
| OLD 25500 | OM | Pimespo XE18 | Fork Lift | 25 |

Trucks , Trailers and Commercial vehicles
| | | | | |
| --- | --- | --- | --- | --- |
| OLD 30400 | Fiat | Campagnola | Carabinieri | 43 |
| OLD 30300 | Fiat | Campagnola | Polizia | 43 |
| OLD 03000 | Fiat | Daily | Sommozzatori (Fire) | 43 |
| OLD 02600 | Fiat | Daily | Polizia | 43 |
| OLD 05301 | Iveco | Turbodaily | Carabinieri | 43 |
| | | | | |
| --- | --- | --- | --- | --- |
| OLD 01700 | Iveco | Eurostar LD | | 43 |
| OLD 01680 | Iveco | Eurotech MP | tanker | 43 |
| OLD 01616 | Iveco | Eurotech MP | with silos | 43 |
| OLD 01853 | Iveco | Pompa autocarrata | Sermac | 43 |
| OLD 00010 | Pianale | Cometto | low loader trailer | 43 |
| OLD 01441 | Scania | 144M | Topline tanker | 43 |
| OLD 01442 | Scania | 144M due assi | Topline telone fran | 43 |
| OLD 01444 | Scania | Topline | Borghi | 43 |
| OLD 01443 | Scania | Topline | Robini | 43 |

For information on where to purchase these items or the location of your closest retailer please contact


info@graham-ruckert.com.au