Sole Australian Distributor for Rio diecast models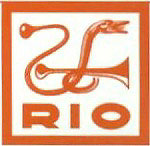 In the thirty odd years that Rio have been making diecast models, they have produced an intriguing range of over 200 models to take on a journey through automotive history. Attention to detail is second to none, and these hand built models are sure to please the most fastidious collector. Many have removable bonnets and full engine detail, which is most unusual for 1:43 scale. Of course, being an Italian manufacturer, the Rio range features Italian cars heavily, and Fiat is very well represented.
The Rio company has recently been sold to another Italian producer, M4, the makers of Art Model and Best Model. The range has been revised in the past year as M4 re-tool and improve the models where necessary.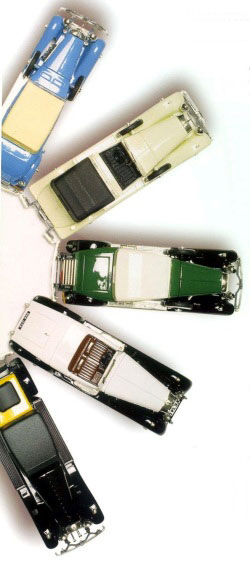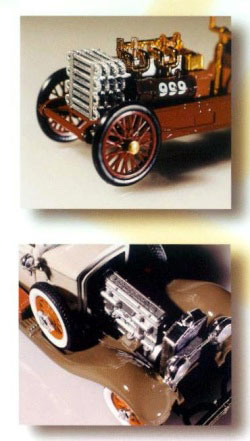 The range consists of over 100 models and these are listed below by marque.
| | | | |
| --- | --- | --- | --- |
| Code | Make | Model | Version |
| RIO 4019 | Alfa Romeo | 6C Berlina | 1932 Beige/Nero |
| RIO 40191 | Alfa Romeo | 6C Berlina | 1932 Rosso/Nero |
| RIO 4170 | Alfa Romeo | Giulietta | Rally dell'Acropoli 1959 |
| RIO 4118/1 | Alfa Romeo | Giulietta Berlina | 1955 Azzuro garda |
| RIO 4118 | Alfa Romeo | Giulietta Berlina | Museo 1955 Rosso Corallo Chiaro |
| RIO 4160 | Alfa Romeo | Giulietta Berlina | Polizia |
| RIO 4157 | Alfa Romeo | Giulietta Berlina | Polizia Museo di Roma |
| RIO 4148 | Alfa Romeo | Giulietta Berlina | Reparto Mobile |
| RIO 4119/1 | Alfa Romeo | Giulietta Berlina T.I. | 1955 Acqua di fonte |
| RIO 4119 | Alfa Romeo | Giulietta Berlina T.I. | 1955 Giallo Cina |
| RIO 4149 | Alfa Romeo | Giulietta Berlina T.I. | 1959 Carabinieri |
| RIO 4150 | Alfa Romeo | Giulietta Berlina T.I. | 1959 Tour de France |
| RIO 4156 | Alfa Romeo | Giulietta Berlina T.I. | Rally delle Dolomiti 1961 Guinti |
| RIO 4155 | Alfa Romeo | Giulietta Berlina T.I. | Tour de France 1958 Herbert/Consten |
| RIO 4184 | Alfa Romeo | Giulietta Ti | Guardia di Finanza 1959 |
| RIO 4196 | Alfa Romeo | Giulietta TI | Wien 1962 #123 Jochen Rindt |
| RIO 40051 | Alfa Romeo | P3 | 1932 Prova Bianco |
| RIO 4005 | Alfa Romeo | P3 | 1932 Prova Rosso |
| RIO 4189 | Alfa Romeo | P3 Tipo B | Montecarlo 1934 #16 Louis Chiron |
| RIO 4192 | Alfa Romeo | P3 Tipo B | Montecarlo 1934 G Moll |
| RIO 4177 | Alfa Romeo | P3 Tipo B | Monza 1934 A Varzi |
| RIO 4178 | Alfa Romeo | P3 Tipo B | Nurburgring 1935 Tazio Nuvolari |
| RIO 4172 | Alfa Romeo | Tour de France | 1958 |
| RIO 4112 | Citroen | DS 19 | Gendarmerie |
| RIO 4114 | Citroen | DS 19 | General de Gaulle 1960 |
| RIO 4158 | Citroen | DS 19 | Mille Miglia 1957 |
| RIO 4164 | Citroen | DS 19 | Mille Miglia 1957 |
| RIO 4162 | Citroen | DS 19 | Mille Miglia 1957 |
| RIO 4153 | Citroen | DS 19 | Montecarlo Rally 1963 |
| RIO 4159 | Citroen | DS 19 | Taxi di Paris |
| RIO 4051 | Citroen | DS 19 | Taxi Olandese 1963 |
| RIO 4151 | Citroen | DS 19 | Taxi Olandese 1963 |
| RIO 4152 | Citroen | DS 19 | Taxi Portoghese 1963 |
| RIO 4113 | Citroen | DS 19 6 cylinder | 1960 |
| RIO 4191 | Citroen | DS 19 Cabriolet Reutter | 1960 Bianco/White |
| RIO 4190 | Citroen | DS 19 Cabriolet Reutter | 1960 Bronzo/Bronze |
| RIO 4097/1 | Citroen | DS 19 Limousine | Bleu d'Oriente/Bianco Carrara |
| RIO 4097 | Citroen | DS 19 Limousine | Paris Salon 1955 |
| RIO 4110 | Citroen | DS 19 Pallas | 1965 Grigio Palladium/Grigio Metallic |
| RIO 4110/1 | Citroen | DS 19 Pallas | 1965 Nero/Grigio Metallic |
| RIO 4171/P | Citroen | DS 19 Prestige 1958 | Papa Giovanni XXIII |
| RIO 4176 | Citroen | DS 21 | Montecarlo 1966 Toivonen/Mikander |
| RIO 4163 | Citroen | DS Break | Carro Funebre (Hearse) |
| RIO 4193 | Citroen | DS Special | 1968 Funerale di Padre/Funeral Car |
| RIO 4188 | Citroen | ID 19 | Montecarlo 1959 Winner #176 Coltelloni/Desoiers |
| RIO 4099/1 | Citroen | ID 19 Break | 1958 |
| RIO 4165 | Citroen | ID 19 Break | Ambulanza Francese Croce Rossa 1958 |
| RIO 4099 | Citroen | ID 19 Break | Paris Salon 1958 |
| RIO 4111 | Citroen | ID 19 Break | Pompieri |
| RIO 4175 | Fiat | 128 | Salisburgo 1971 W Dona |
| RIO 4174 | Fiat | 128 | Spa-Francorchamps 1971 De Tommasi/Vimercati |
| RIO 4173 | Fiat | 128 | Taxi Milano 1969 |
| RIO 4166 | Fiat | 128 Berlina 2 door | Carabinieri |
| RIO 4161/1 | Fiat | 128 Berlina 2 door | Giallo Positano |
| RIO 4167 | Fiat | 128 Berlina 2 door | Polizia Stradale |
| RIO 4161/2 | Fiat | 128 Berlina 2 door | Rosso Sport |
| RIO 4161 | Fiat | 128 Berlina 2 door | Verde Oliva |
| RIO 4135 | Fiat | 128 Berlina 4 door | 1969 Grigio Garda |
| RIO 4135/1 | Fiat | 128 Berlina 4 door | 1969 Nero |
| RIO 4187 | Fiat | 128 Four Door | Croce Rossa 1970 |
| RIO 4182 | Fiat | 128 Four Door | Polizia 1969 |
| RIO 4186 | Fiat | 128 Four Door | Pompieri 1970 |
| RIO 4179 | Fiat | 128 Four Door | Taxi Giallo Milano 1971 |
| RIO 4185 | Fiat | 128 Two Door | Monza 1970 #23 Crassevig |
| RIO 414106 | Fiat | 238 Ambulance | Ambulanza Avis Cologno Monzese |
| RIO 414108 | Fiat | 238 Ambulance | Ambulanza Carabinieri |
| RIO 414107 | Fiat | 238 Ambulance | Ambulanza Esercito Italiano |
| RIO 414102 | Fiat | 238 Ambulance | Ambulanza Falk Danimarca |
| RIO 414104 | Fiat | 238 Ambulance | Ambulanza Vigili del Fuoco |
| RIO 414110 | Fiat | 238 Ambulance | Croce Bianca Milano |
| RIO 414109 | Fiat | 238 Ambulance | Croce Rosa Celeste Milano |
| RIO 414101 | Fiat | 238 Ambulance | Croce Rossa Italiano Bergamo |
| RIO 414111 | Fiat | 238 Ambulance | Croce Verde Lugano |
| RIO 414105 | Fiat | 238 Ambulance | Croce Verde Serravalle |
| RIO 414103 | Fiat | 238 Ambulance | Servizi Sanitari per l'Antartide |
| RIO 4168 | Fiat | Monza 19711 | Vimercati |
| RIO 4169 | Fiat | Taxi Milano | 1972 |
| RIO 4001 | Itala | Grand Prix | 1906 |
| RIO 4002 | Itala | Parigi-Pechino | 1907 |
| RIO 4137 | Mercedes Benz | 300 D | Carro Funebre 1960 |
| RIO 4100/P | Mercedes Benz | 300 D Limousine 1960 | Papa Giovanni XXIII |
| RIO 4121 | Mercedes Benz | 300L Cabriolet Closed 1960 | Blue |
| RIO 4122 | Mercedes Benz | 300L Cabriolet Closed 1960 | Rosso Scuro |
| RIO 4154 | Mercedes Benz | 770 | USA Army |
| RIO 4022 | Mercedes Benz | 770 Closed Cabriolet | 1938 Blue |
| RIO 4021 | Mercedes Benz | 770 Open Cabriolet | 1938 Bordeaux/Black |
| RIO 4064/P | Mercedes Benz | 770 Open Cabriolet | Adolf Hitler (with figure) |
| RIO 4064 | Mercedes Benz | 770 Open Cabriolet | Reich 1938 |
| RIO 4085 | Mercedes Benz | 770 Pullman | 1938 |
| RIO 40901 | Mercedes Benz | Adenauer | 1951 Grigio Metallizzato/Silver Metallic |
| RIO 4090 | Mercedes Benz | Adenauer | 1951 Nero/Black |
| RIO 4194 | Volkswagen | 1200 Deluxe | 1953 Avario/Ivory |
| RIO 4195 | Volkswagen | 1200 Deluxe | 1953 Testa di Moro |
| RIO 4197 | Volkswagen | 1200 Deluxe | Carrera Panamericana 1954 #261 |
| RIO 4198 | Volkswagen | 1200 Deluxe | Carrera Panamericana 1954 #263 |
| RIO 4183 | Volkswagen | 1948 | Ambulanza 1953 |
| RIO 4181 | Volkswagen | 1948 | Polizei 1953 |
| RIO 4180 | Volkswagen | 1948 | Polizia 1953 |
| RIO 4103 | Volkswagen | KdF Standard Limousine | 1939 |
| RIO 4104 | Volkswagen | KdF Standard Limousine | Open Sunroof 1939 |
| RIO 4088 | Volkswagen | Normalausfuhrung | |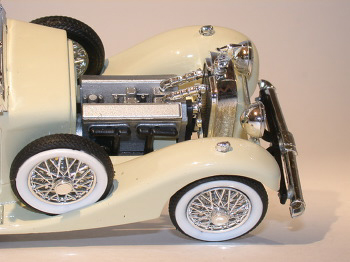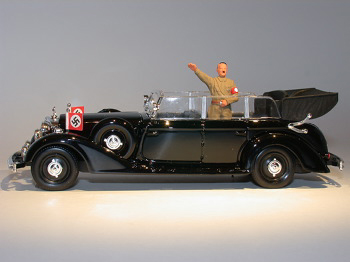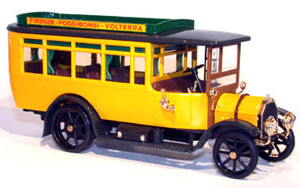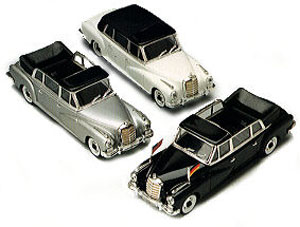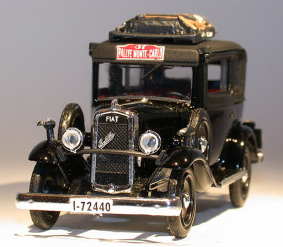 For information on where to purchase these items or the location of your closest retailer please contact


info@graham-ruckert.com.au