Click here if there is no navigation bar on the left of this screen
M Tech Diecast Models - Sole Australian Distributor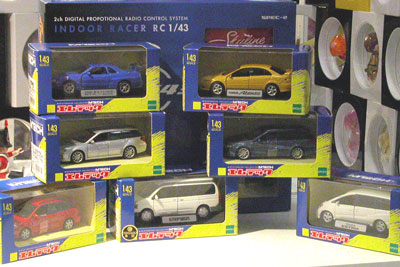 The M Tech Miniaturecar Collection is another range that caters for the collectors of Japanese cars. There are currently around 60 models available representing vehicles from Mazda, Mitsubishi, Nissan, Subaru, Toyota and Hino. Detail and overall quality is quite good, especially for the price. Interiors are well detailed and many items have opening doors.
A number of trucks are also included in the range, such as the Hino tippers and garbage trucks, cement mixers, tow trucks, delivery vans etc.
Also available with Radio Control!
Some items are also available as Radio Controlled models. These are fully proportional controlled models, with variable speed control and proportional steering, all contained in an accurate 1:43 scale rendition of your favourite Japanese street racer.
Models are listed below by type and marque.
Mazda
Mitsubishi
Nissan
Subaru
Toyota
Honda
Trucks and Commercial Vehicles
Radio Controlled Street Racers

For trade enquiries or the location of your closest retailer please contact


info@graham-ruckert.com.au